"Act Of Terror" In Lower Manhattan,PEOPLE DEAD ,AND MANY MORE INJURED.(JUST NOW)
A man plowed a truck into several people on a bike path, then collided with a school bus. Officers shot the suspect, and he was taken into custody. Warning!!!
Eight people were killed and more than a dozen others injured Tuesday when a man plowed a rental truck through a lower Manhattan bike path until crashing with a school bus in what officials called an "act of terror."
New York City Police Commissioner James O'Neill said that the attack began at 3:05 p.m. when a 29-year-old man drove a rented Home Depot truck into a bike and pedestrian path on West Street, striking multiple people. The driver continued until colliding with a school bus carrying adults and children.
The driver then got out of the truck "brandishing two handguns" and was shot by a police officer in the abdomen, O'Neill said. The suspect, who police did not identify, was taken into custody and hospitalized. Police recovered a paintball gun and a pellet gun from the scene.
The attacker shouted "allahu akbar" — "God is great" in Arabic — as he got out of the truck, O'Neill said, which "enabled us to label this a terrorist event."
Eight people were killed in the attack, six at the scene, and two others pronounced dead after being transported to a hospital. Another 11 people were hospitalized with serious but non-life threatening injuries. New York City Mayor Bill de Blasio said "over a dozen" people in total suffered injuries during the attack.
"This was an act of terror, and a particularly cowardly act of terror aimed at innocent civilians," De Blasio said. "We know that this action was intended to break our spirit.
"But we also know New Yorkers are strong," he continued, "New Yorkers are resilient and our spirit will never be moved by an act of violence and an act meant to intimidate us."
Images from the scene showed at least one body lying near a sidewalk where the attack occurred.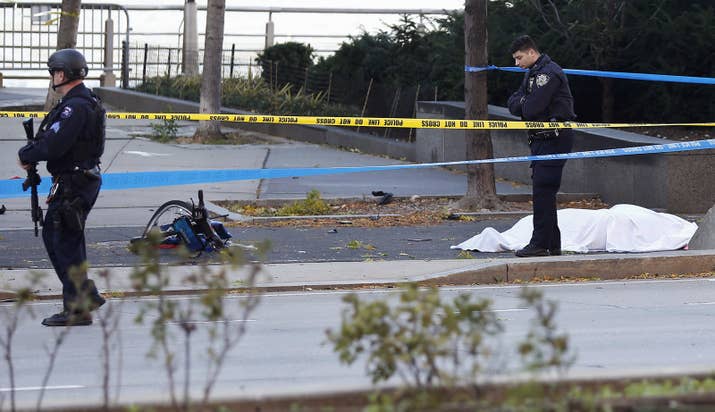 Police said an investigation was ongoing Tuesday. The FBI told News it was "responding to the incident" and had agents on the scene, but did not provide additional details.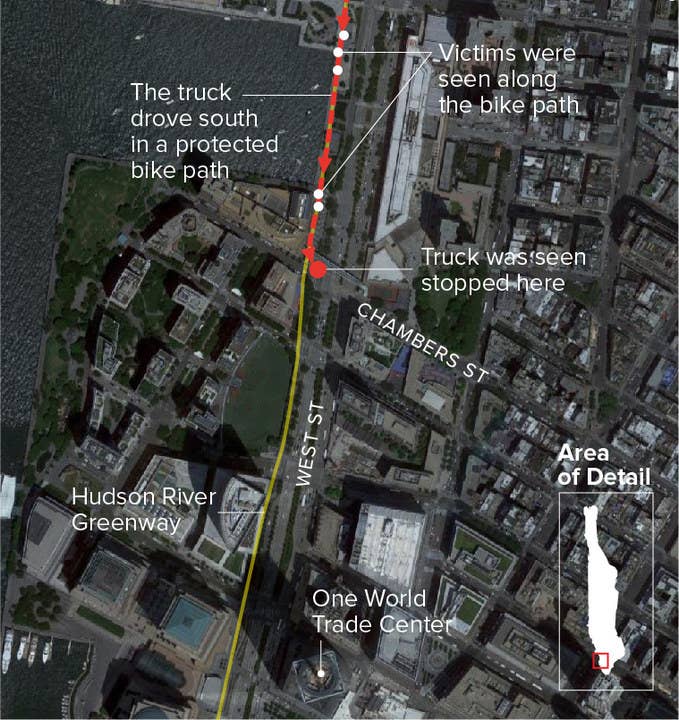 Tawhid Kabir, 20, who witnessed the incident, told BuzzFeed News he saw a man emerge from the truck and run "as if he was being chased."
He said he heard five to six gun shots, but wasn't sure who fired them, before police apprehended the driver.
BREAKING: Multiple people ran over by a Car in #Manhattan multiple people injured. pic.twitter.com/lKFTW9YQZH

— AlterAtYeshiva (@alteratyeshiva) October 31, 2017